Ingen Technologies, Inc., further referred to as the "Company", was developed by a professional and experienced team of people. The Company's first product,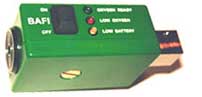 a medical warning system for pressurized oxygen cylinders referred to as BAFI™, was conceived in late 1996 and developed over the past three years by engineers, physicians and businessmen. The BAFI™ product meets or exceeds regulatory compliance of this type of product. The product is complete and in production.
The Company invented, patented and produces the worlds first digital warning system for portable gas cylinders, known as BAFI™. Application markets include medical, safety & protection (Fire & Police), aircraft (commercial & private), recreation vehicle & outdoor (propane), construction (welding), military & many others.
The product was developed through the highly experienced key management team. The Company is in the business of developing, manufacturing and marketing the first digital warning system for portable pressurized gas tanks and cylinders. This is a proprietary product, with no competition, for markets, inclusive of the medical device market, motor home and outdoor supplies market, aircraft industry, construction & welding industry, military, aqua marine diving industry and various government and institutional markets. The Company has applied advanced technology to new and unique applications of its' product, and is now positioned to become a recognized leader in this field.
The Company has developed BAFI™ for successful market penetration. The product was researched, designed, developed and evaluated by experienced physicians, engineers and businessmen.
BAFI ™ is a product that offers technological innovations for various types of applications. Portable pressurized gas systems are categorized as Diameter Index Safety Systems (D.I.S.S.) and are used for various applications. For example, oxygen gas is provided to patients for use in remote locations. This delivery system is a standard medical application used in providing oxygen to patients suffering from various respiratory and pulmonary diseases which result in oxygen deficiency within their blood stream. Oxygen systems are prescribed by physicians and made available through various manufacturers and oxygen suppliers.
Unique about the BAFI™ system is its' ability to interface with most of the regulators and all of the pressurized gas cylinders. The use of BAFI™ provides reliability and safety for the patients and other users. The user is periodically unaware of the pressure levels and for the first time they can experience assurance through this real-time audio and visual warning system.

BUSINESS OPPORTUNITY
The Company has invented, developed and patented a digital device that has the ability to detect, in real-time, when the pressure in any gas cylinder measures less than 500PSI. The device is equipped with a visual and audio alarm system. Further, BAFI™ is sold at an affordable price and is a cost effective tool for the consumer and supplier.
The patient market alone is vast and includes 8,000,000 patients in the United States and 22,000,000 world wide, who use oxygen. Other markets are millions of tanks in propane barbecues, recreation vehicles, construction, military bases, commercial and private aircrafts, and government facilities. There is no recognized competition and the company will enjoy the revenue stream generated through the sales of this product.
BUSINESS OVERVIEW
Professional Products
The Company is currently in production and has the ability to deliver acceptable quantities of the BAFI™ systems and its' various models, as well as the second generation systems to its potential distribution network. The Company has expanded its direct sales and marketing program with manufacture reps, and medical product distributors to deepen and broaden its penetration of the private corporate, government institutional and medical marketplace. Through its distribution network, the Company will also create its platform for second generation product line(s) (currently under development), including a new compact digital solid state design for its marketing architecture.
Institutional and Medical Products
The Company has initiated development of a distribution and sales program for the BAFI™ product that includes a medical distribution network, government distribution network, and other distribution channels. The Company will also provide marketing and advertising programs for its distribution network by offering a direct advertising campaign, infomercials and internet marketing. These additional marketing and advertising programs are affective in gaining wide recognition as a method of introducing products and driving the consumer to distribution. Further, an integral part of the Company's marketing strategy is to offer a complete product line and the ability for immediate delivery of product and services. The Company plans to establish permanent residency in major national, regional and overseas distribution networks. This will afford the Company readily available distribution channels for both existing and new products.
The Company is now seeking to appoint independent representatives on a regional basis throughout North America. The Company's management and strong resources will manage its' network of sales organizations that offer extensive distribution capabilities and experience with the product.
The Company is prepared to promote sales of its product in certain international markets. The BAFI™ product has been issued a United States Patent and has filed for its' Foreign Patents to established proprietary product development in foreign countries. To that end, Company management will prepare for an international market research report on the potential of its product lines overseas. With this report, the Company can evaluate its position to pursue compliance of ISO-9000 and CE certification for European countries. It is anticipated that the overseas market represents 50% of the world market for pressurized gas cylinders. This report will provide accurate recommendations for achieving overseas market penetration.
The BAFI™ system is an accurate and cost effective, real-time, pressurized gas warning system that will alert the user when the gas levels are approaching empty. It offers a convenient method in warning users before the cylinders are empty without the physical need to view the gauge.
CONCLUSION
The Company is currently securing orders and has initiated production of its product. There is a continuous stream of interested distributors for the BAFI™ product and the Company has developed a direct distribution channel for all of the various markets with H.N.W Marketing in order to initiate immediate sales.
Management believes that the conditions which currently exist in the marketplace present the Company with an unusual opportunity to build a substantial business. Specifically, the Company will tap into the gas cylinder market, government agencies, and oxygen suppliers for its BAFI ™ system, as well as the rapidly expanding managed care and home health care industry. The BAFI™ audience will be tapped by exploiting an established, proven channel of distribution heretofore largely ignored by marketers of institutional services. The Company stands ready to launch an aggressive marketing program and advertising campaign for expanding sale of its product.
The Company has received a United States Patent for its' BAFI™ technology and has currently filed for various Foreign Patents for its systems. The Company had completed a patent search in 1998 which implied that there were no other systems of its' type in the marketplace. The Company has developed, tested and established potential sales of its systems and products and expects several patents on its design and applications. The Company's product outperforms existing gauge systems and their competition. The BAFI™ performance is the leading edge in its' industry.
<-- Return to Business Plan Table of Contents