Ingen Technologies has completed development of its BAFI model B2000 and units have been distributed to patients. The BAFI unit is the first digital low oxygen warning system available for portable O2 tanks. The tanks are used for medical, private and commercial aircraft, firefighting and many other commercial applications.

World renowned pulmonologist, Dr. Richard Sheldon, is conducting a Beta Test for the Company. The BAFI is being used by patients in a privately funded clinical trial based in Southern California. Results of this trial will be made available in June.

Special patent attorney, Donn Harms, has announced the issuance of the US Patent for the BAFI™, and has filed for the Foreign Patents accordingly. The proprietary design and engineering prevent other manufacturers from developing a similar product. Patent information will be made available on the Internet this summer.

The Company is receiving interest from medical supply dealers and distributors in handling distribution for its products. The Company continues to use the Internet in disseminating information to suppliers, consumers and investors.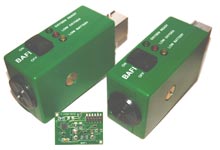 The Company is negotiating the acquisition of Organic Medicine, Inc. and their line of alternative healthcare products. One particular products, known as G7, is used in the fitness regimen for muscle builders.
Attorney, Dr. Chris Evans, is evaluating various public shells to merge the Company. There are several opportunities for the Company to go public and the company is in position to consider going public at an earlier date than anticipated.
Ingen Technologies is a rapidly growing company that manufactures medical and healthcare products.