OxyView™
Advantages of OxyView™
Lightweight pneumatic gauge that measures oxygen flow-rate
Attaches easily to oxygen tubing just below neck and close to the patient
Eliminates discrepancy by measuring oxygen flow rate near the patient not the source.
Uses no batteries and is reliable
Clean packaging and Disposable for hospital use
For use in hospitals, surgical rooms and outpatient therapy
OxyView™, with US Patent Pending, is a pneumatic gauge that quickly measures oxygen flow-rate close to the patient.
OxyView™ is a reliable lightweight pneumatic gauge that measures oxygen flow-rate.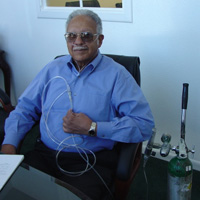 OxyView™ enhances the safety, assurance and accuracy of hospitalized and surgical patients being administered oxygen from any source. It could quickly inform any medical staff of any leak or inaccuracy between the delivery source and the patient.
Oxyview™ allows for fast and reliable measurement of oxygen flow-rate.